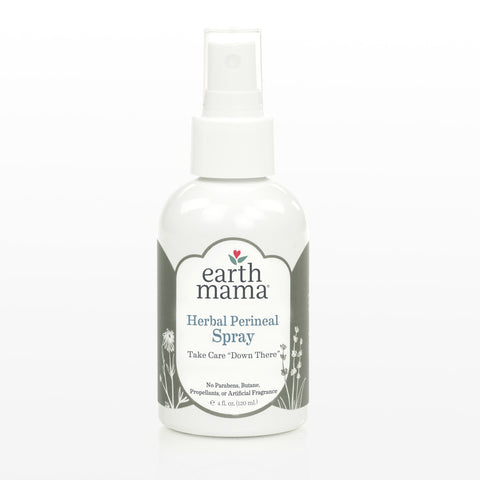 Earth Mama Herbal Perineal Spray
Product Details
4 fl oz spray bottle
Made with with natural and organic herbal extracts and oils
A soothing and cooling mist for perineal discomfort
For external use only
Made in the USA
Ingredients: Water, Witch Hazel (Hamamelis Virginiana) Leaf Extract, Kosher Vegetable Glycerin, Cucumber (Cucumis Sativus) Fruit Extract, Organic Lavender (Lavandula Angustifolia) Flower Oil, Organic Peppermint (Mentha Piperita) Leaf Oil


Fact: Pregnancy and childbirth will change your lady parts. Here's another fact: You will heal. And there's no harm in getting some cooling comfort "down there" along the way. Earth Mama Organic's Herbal Perineal Spray is a natural touch-free herbal mist for pregnancy and postpartum use. With cooling cucumber, organic witch hazel and organic herbs traditionally used for postpartum relief, the Herbal Perineal Spray helps soothe perineal discomfort before and after childbirth. No parabens, butane, propellants, artificial preservatives or artificial fragrance. 'Cause who wants any of that down there?
A Quick How-To: Pack it in your birth bag and take it with your peri bottle for those first post childbirth bathroom trips. Mist as often as needed, especially after bath or toilet use. Store in the refrigerator for extra cooling. For external use.

*These statements have not been evaluated by the Food and Drug Administration. This product is not intended to diagnose, treat, cure or prevent any disease.
---
We Also Recommend